ROTMAN FAMILY ENTREPRENEURSHIP AWARDS
The awards is our signature event, and this year's will be exceptionally special.
Not only are we celebrating the outstanding achievements of our entrepreneurs and volunteers, but we're also celebrating Rise's 10th Anniversary and will be gathering in an entirely new location—on Zoom! Like for so many organizations, COVID-19 has forced our event online, but you will still enjoy an intimate and interactive discussion with our host, CTV's Your Morning's Anne-Marie Mediwake, and hear inspiring testimonials from Rise entrepreneurs about the transformative impact Rise has had on their financial and personal empowerment.
The format of this year's awards may have changed, but the cause for support certainly has not.
| | |
| --- | --- |
| Date: Monday, November 30, 2020 | Opening Welcome Anne-Marie Mediwake, Co-Host, CTV's Your Morning |
| Time: 11:00 a.m. to 12:00 p.m. EST | Awards Ceremony Celebrating excellence by Rise entrepreneurs and volunteers |
| Location: Online via Zoom | Award Recipient Panel Discussion Moderated by Anne-Marie Mediwake |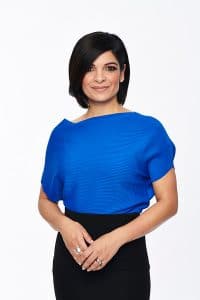 Host of CTV's Your Morning, Anne-Marie Mediwake is an accomplished journalist with two decades of news and current affairs experience. Mediwake has provided award winning coverage of some of the world's largest news stories including the 2014 Ottawa Terror Attacks and the 2013 Boston Marathon Bombing.
Award Categories
| | |
| --- | --- |
| | Rotman Family Entrepreneur of the Year: For the entrepreneur that best exhibits success and growth in their personal and professional lives. They have made smart and sound decisions when it comes to their business planning. Their story is one to be applauded and celebrated, and can stand as an example to follow. |
| | Dr. Paul Garfinkel Resilience Award: For the entrepreneur that has overcome significant pitfalls and challenges (either personal or business). They have grit and perseverance and don't take "no" for an answer. While every Rise client has their own personal challenges, the Resilience Award winner goes further than others in achieving their goals. |
| | Bell Let's Talk Start-up Award: For the first-time entrepreneur dipping their toes into small business ownership. They have done their homework and research, and diligently planned their launch. They've already had some initial success, and have a clear sightline into where their future lies. |
| | Volunteer of the Year: For the Rise volunteer who has gone above and beyond for Rise clients and the organization. Their tireless dedication to the Rise mission and their contributions to individual clients is a clear example of exemplary service. |
| | | |
| --- | --- | --- |
| Presenting Sponsor | Supporting Sponsor | Award Sponsor |
| | | |