NEED HELP FINANCING YOUR GREAT BUSINESS IDEA?
Do you have a great business idea but not enough funds to get it off the ground or grow it? We're here to help you achieve financial independence and pursue your entrepreneurial dreams. We help people who face barriers to employment because of mental health or addiction challenges. We don't just provide low interest loans, we provide encouragement, support, business advice, and resources to help empower you to launch your idea towards success.
Small Business Lending

Anyone over 16 can apply for a low-interest loan, in order to launch or grow your business. We'll match you with a mentor and support you with resources to sharpen your business skills along the way.
NEED HELP SHARPENING YOUR BUSINESS SKILLS?
We know that there's more to starting or growing a business than having access to funds. Our program does more than help out financially. They also provide training, education, and mentorship to sharpen your skills and help you succeed in the business world. Our aim is to support and empower you, giving you added confidence to pursue your entrepreneurial dreams.
Peer Supported Training

This program will help you create a business plan and develop the skills and confidence to start your business. You'll be teamed up with a group of entrepreneurs and a business coach to support you with getting your business off the ground. For adults over 30.

Applications are currently open!
UNDER 30 AND WANT TO LEARN HOW TO MAKE A BUSINESS PLAN?
Rise offers three programs specifically designed to help youth launch their small businesses. Choose the one that's best for you.
EnterpRISEing Youth

Online course

A 15-lessons online entrepreneurship course delivered through our interactive learning platform, enterpRISEingYouth.ca. We'll teach you business skills and help you to create a business plan.
EnterpRISEing Youth Plus

Online & in person

A free 8-week course that combines online learning through our interactive platform, enterpRISEingYouth.ca, with virtual in-class support and coaching sessions.

Applications are currently open!
Youth Small Business Program

In person course

During this free 10-week course, you'll work with our professional instructors and volunteer coaches to create a plan, gain confidence and skills needed to turn your business idea into a reality.

Applications are currently open!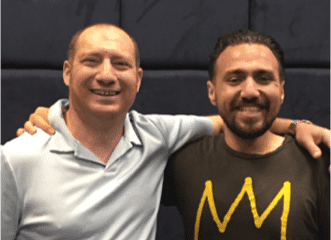 Todd & Saeed
"Rise has focused my business strategy, provided motivation, and helped to open the door to opportunities for me."